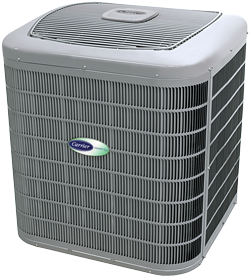 A modern, high-efficiency heat pump is an investment into total home comfort.  Combining heating and cooling into one cost-effective system, a heat pump provides convenience, practicality, and flexibility.  When the experts from 7 Services Inc. handle your installation project, you're ensured knowledgeable recommendations, accurate sizing, and perfect installation.  Through superior workmanship, our NATE-certified specialists maximize the value of your energy dollar, protect reliability, and promote long-lasting performance.  The combination of quality products and conscientious service is the key to your total satisfaction.
Factory Authorized Heat Pump Heating System Installation & Service
By demonstrating consistent high performance on customer approval surveys and meeting exacting standards in all services, 7 Services Inc. is distinguished as a Carrier Factory Authorized Dealer.  Because we specialize and receive continued training in advanced technology and techniques, our licensed team competently handles the entire scope of the installation process.  Proper sizing, location, and implementation of your new heat pump involves considerable expertise, industry experience, and sophisticated tools.  Know that at 7 Services Inc., we put our extensive background to work for you, answering every challenge with unfailing professionalism.
Carrier Electric Heat Pump Systems
An electric heat pump does not convert electricity into heat, but instead absorbs ambient warmth, multiplies it, and then transfers the heat to the home.  During summer, through reverse operation, heat is extracted from the home, creating refreshingly cool temperatures.  Achieving up to 20.5 SEER and 13.0 HSPF, the Infinity 20 Heat Pump with Greenspeed Intelligence has earned ENERGY STAR's Most Efficient 2012 qualification.  This system provides exceptional heating capacity, even when outside temperatures drop into the teens, and can be part of Carrier's revolutionary Hybrid Heat Dual System.  The innovative, variable-speed compressor of this unit, when orchestrated by the Infinity control, allows it to literally adjust output in response to fluctuations in indoor conditions.  With mere one percent adjustments ranging from 40% to 100% capacity, it provides only the exact amount of heating or cooling necessary.  The unit can therefore run longer, at steadier, lower capacities, delivering incredible energy efficiency and precision temperature control.  You'll enjoy quieter operation, unprecedented summer dehumidification, and the customization of multiple zones.
For superior heat pump repair, service and installation, contact the team at 7 Services Inc. today!
Whether you're installing new or looking to upgrade, 7 Services Inc. offers a wide variety of heat pump options, certain to meet your highest expectations for efficiency, affordability, and performance.  Our NATE and EPA certified specialists complete every step of your project with personalized attention and unwavering dedication.  You'll benefit from timely and on budget completion, free estimates on replacement, and our commitment to your satisfaction.  Our job isn't finished until you're completely comfortable with the operation, features, and rewarding results of your new heat pump.For more information about Heat Pump Installation and Heat Pump Repair call 7 Services today !