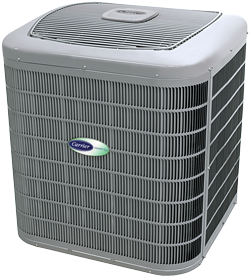 Neglecting the professional upkeep of your cooling system is a sure way to be disappointed.  Without regular cleaning and tuning, your air conditioner will fail to live up to your expectations for comfort, humidity control, energy use, and reliability.  Components won't last as long and will cost more to run.  Contact the specialists from 7 Services Inc., and we'll make sure your cooling system operates at peak capacity.  Conscientious cleaning and troubleshooting is the key to consistent and rewarding performance.  By investing just a bit of time and money now, you can avoid the greater cost, time, and disruption of sudden malfunctions.
Annual Air Conditioning Service prevents repairs
Your cooling system answers to high demand throughout a long, hot season.  Over time, wear and tear sets in.  Dust infiltrates the inner workings.  Minor issues begin to impact operation.  During seasonal inspection, the NATE-certified technicians from 7 Services Inc. identify and correct small problems before they result in major malfunctions.  With all components maintained in peak condition, the unit operates at maximum efficiency, requiring less energy and keeping costs low.  Service life is extended.  Most common repair needs are eliminated.  Original sound levels, cooling capacity, and dehumidification is restored.
Invest in regular air conditioning maintenance and breathe easier
Preventative maintenance is the answer to many Indoor Air Quality problems.  A well-maintained cooling system prevents excessive humidity and efficiently removes microorganisms, dust, and other airborne contaminants from breathing air.  A clogged and contaminated HVAC unit can become more of a hazard than a solution, often contributing to indoor air concerns.  Mice, bugs, pollen, dander, mites, and dust are just a few of the things that can be concealed in the inner workings of your cooling system.  The warm, moist environment within the unit promotes the growth of natural organisms, such as mold, mildew, and fungi.  Perfectly positioned to enter the airstream whenever cooling is activated, these airborne particles and spores can result in devastating health problems.  With annual spring cleaning from 7 Services Inc., we eliminate dirt and contaminants, stopping mold before it starts, and ensuring a clean, healthy source of breathing air.
Our professional team of AC technicians provides expert air conditioning service throughout Virginia Beach
Investing in preventative maintenance is only beneficial when the work is performed by knowledgeable and dedicated professionals.  Have confidence that when you trust the upkeep of your cooling system to 7 Services Inc., we put years of hands-on experience and unmatched expertise to work for you.  We earn your satisfaction through quality workmanship and a job done right.  As a Carrier Factory Authorized Dealer, our team continues factory training in evolving HVAC technology, design, and products, and we rely on Factory Authorized Parts when possible.  Our team is NATE and EPA certified, and committed to superior quality in every project we undertake.  For the greatest rewards in service and performance, contact 7 Services Inc.  Emergency Air Conditioning Service Va Beach and for air conditioning maintenance Va Beach and the surrounding areas of  Hampton Roads..
 Emergency Air Conditioning Service Va Beach, Chesapeake, Norfolk, Portsmouth Va
---